Luxurious satin drawstring bags, with a bit of extra room for your additional gifts (5"x8"): with two bottles in a bag there is still room for a lip balm or small tube of sunscreen. It's like a plush mini-stocking!
~ Original ~
2.7 fluid ounces. The Original Formula: sweet spicy with a touch of patchouli for an earthy undertone. 100's of hours of protection. Sized for air travel.
$11.95


~ Patchouli Free ~
2.7 fluid ounces. The Patchouli Free Formula: sweet spicy with more lemongrass high notes. 100's of hours of protection. Sized for air travel.
$11.95


~ Furry Friend ~
2.7 fluid ounces. The Furry Friend Friendly Formula: no cedarwood or patchouli. Some dogs are allergic to cedarwood, so we made a special formula just for them! $11.95

Select a custom bottle/bag/bow combination for each bottle you order: 1,2,3

1) You choose a satin bag from these colors:

light pink
lavender
pewter
old willow
forest
seal brown
coffee

2) Select a 1" Gold or Silver star bow, for a your finishing touch!

3) Add a short note for each bottle/bag/bow combination: (such as who you were thinking of for this combination ... "Sean", "Mara") to help organize your gift giving! The note will show up on the invoice for each combination - perfect!
---
*** Once you are finished making your custom selections, the Shopping Cart will
have all the details waiting for you ... and you can adjust items at that time
if you wish to change your order! ***

*** The cart will keep track of the details ordered for each bottle: Bottles, bags and bows
all come in the same package to you, but separated in order to assure their arrival in the best condition possible.

We use PayPal for payment processing, but you do not need to have
a PayPal account. You can use major credit cards as well ...
just select the "Check Out" button to use your card instead of PayPal.
---
---
---
2013 Whole Foods Market, Portland, Maine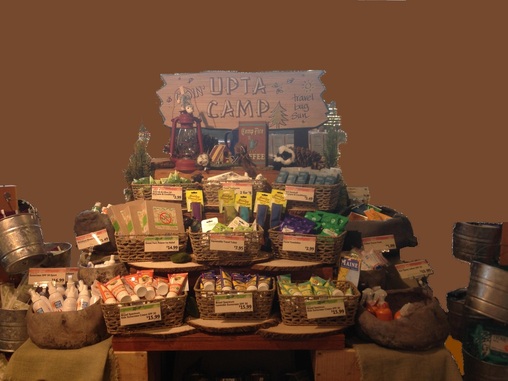 This end cap display located on the path from Fruits/Vegetables Section to the Wine and Beverages section absolutely boosted sales of all products within the theme:

"Goin' Upta Camp".

The pole stands, with alternating galvanized bucket pairs on either side increased product availability and visual interest for customers. Its a great display and very engaging. Often there where 2 or 3 people looking at the products when I went in.

Whole Foods Portland has sold over 400 bottles of 'Skeeter Skidaddler in 2013. This outstanding display presentation, as well as the natural goodness of 'Skeeter Skidaddler, propelled us to be Whole Foods top selling insect repellent by a wide margin!

---